AC Repairs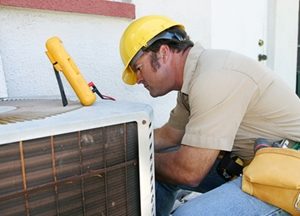 If you own a business or live in the greater Savannah area, Rick's HVAC is the air conditioning company you want for affordable, reliable air conditioning repairs and more. Our expert air conditioning repair technicians can handle any problem with your AC, finding the root causes and completing repairs quickly. All our air conditioning specialists are highly trained and experienced and given the best tools with the latest technologies to quickly solve any issue with your air conditioning system.
We are licensed by the state of GA for residential and light commercial services and are fully insured, which means you can rely on us for any AC repairs you may need for your home or business. We serve the following areas and beyond here in east Georgia: Port Wentworth, Pooler, Bloomingdale, Rincon, Savannah, Garden City, and other great communities in the region.
Types Of Air Conditioning Systems We Repair
Rick's HVAC is the Savannah-region air conditioning services company for top-quality repairs on your cooling system, whether it's ductless, split, heat pump, water coolers, rooftop, or central. All air conditioning systems have unique features, so when choosing an air conditioning repair company, make sure they can do the work properly. At Rick's HVAC, we have the know-how to do the job right. We can even install a whole-home air purification system, air scrubbers, or humidification control systems. Our ability to install many types of air conditioning systems and perform repairs, as well as maintain them when needed, means we are your go-to professional team for air conditioning repairs in Savannah, GA and beyond.
24/7 Emergency Air Conditioning Repairs
When your air conditioner is on the fritz, call the pros at Rick's HVAC. We'll be there for you whenever you need emergency air conditioning repairs 24/7. Our technicians will drive to your location to provide reliable, affordable air conditioning repair services in the greater Savannah, GA region. Different things can go wrong with your unique system, and it takes a qualified professional to handle your AC repair services correctly. Our master air conditioner repair techs will diagnose your problem through expert troubleshooting. We have state-of-the-art equipment that allows us to make a quick diagnosis, and we will find the causes behind the issues.
Don't put up with an uncomfortable home or business when you can call a reliable AC repair company for your maintenance and repair needs. We're ready to respond quickly to your call. We want to earn your trust and become your preferred HVAC contractors in Savannah and beyond!
Why Choose Us For Air Conditioning Repairs?
Rick's HVAC is an air conditioning company with longevity. In fact, since 1992 we have served Savannah and the surrounding areas by providing exceptional services centered on YOU, our valued customer. As a family-owned business, we put our customers first, and that's why we offer affordable, upfront pricing and great guarantees and warranties. Whether it's commercial air conditioning repairs or residential ones, we ensure our contractors are well equipped with the tools and parts they need when they show up for a service call here in the greater Savannah region.
Our employees are drug-tested, courteous, and polite, and they will respect your home with the proper cleanup afterward. We can repair all kinds of air conditioning systems with expertise, we will fix the problem right, and we will make sure you are completely satisfied with our work. Call today for references and to find out why so many in the Savannah area trust us for their AC repair needs.
What Reliable AC Repair Services Can Do For You!
In this part of the world, we have to rely on air conditioning equipment that functions properly. With swelteringly hot days, we can't afford to be without cooled indoor air. Not only is it uncomfortable, leading to wasted days sitting on the couch or lying on the wood floor to try to keep cool in front of a portable electric fan, it is also unhealthy.
Overheating can be dangerous for many individuals, including young children, the elderly, our pets, and anyone with a compromised immune system. When it's so hot that we can barely think, we are at a greater risk of becoming dehydrated or even suffering from heat stroke. Prolonged exposure to high temperatures can lead the body to become unable to regulate internal temperatures.
Signs of heat exhaustion and heat stroke may include:
Feeling faint or dizzy, which can then turn into a throbbing headache
Excessive sweating during heat exhaustion, followed by no sweating during a heat stroke
Rapid weak pulse, which will turn into a rapid strong pulse at the more dangerous heat stroke stage
Muscle cramps
Clammy skin and a pale appearance during heat exhaustion
Red, hot, and dry skin during heat stroke
Possible loss of consciousness
Heat exhaustion can be treated with cool, air-conditioned air, a cool shower, and water to drink. Heat stroke, however, is a life-threatening situation that requires a call to 911 for emergency help.
To keep yourself and your family comfortable, healthy, and safe during our hottest days, make sure to schedule air conditioning repair services in a timely manner, wherever you may live in the greater Savannah, GA region. Your household's safety matters!
AC Repair Services For Our Residential Clients
The cooling and heating technicians at Rick's HVAC have ample training and extensive experience working with a wide range of equipment found in this region. Our teams are able to troubleshoot your air conditioning equipment and pinpoint issues with precision. It doesn't matter how old your system is or what brand or model your AC unit may be; we're here to locate the problem and make the necessary repairs so that you and your family can rely on having a comfortable indoor environment even on the hottest days of the year.
These are some of the many east Georgia locations that we serve through our top-quality air conditioning repair services:
Savannah
Pooler
Rincon
Bloomingdale
Brooklet
Statesboro
Port Wentworth
Garden City
If your AC system is acting up in any way, give us a call. We'll be there to troubleshoot and repair your air conditioning unit to keep you cool and comfortable.
Commercial Air Conditioning Repair Services
In addition to serving residential customers in the greater Savannah region, Rick's HVAC helps commercial clients, too.
If you run a business or manage a property, you know how important it is to keep the residents inside comfortable regardless of what the weather is like outside. You can't afford to expose your employees or the people inside the building you manage to excessive heat. If you run a business, not only will you be harming your employees, but you'll see productivity decrease dramatically.
Property managers have to keep the people inside the buildings they run comfortable, too. Whether it's a government building, an apartment complex, a medical facility, a daycare, or any other property where people live, work, study, receive medical attention, or spend leisure time in, it's important that the HVAC equipment is maintained so that it works well when it's needed the most.
For top-quality yet affordable commercial air conditioning repair services in Savannah, GA and beyond, give Rick's HVAC a call. We're ready to serve you through excellent HVAC services.
Savannah AC Repair
There's no doubt about it; our region is gorgeous! Whether you live in Savannah, Port Wentworth, Garden City, Pooler, Bloomingdale, Statesboro, Rincon, Brooklet, or any other community in this part of the world, you can enjoy a great location that's close to the ocean and offers numerous cultural and entertainment options.
We at Rick's HVAC truly feel fortunate to serve in this part of the world. We appreciate the great people we meet every day in our communities, the majestic trees and rich architecture we can enjoy on our drives to locations throughout the region, and the genuine Southern hospitality this area is known for.
Working here as HVAC technicians is genuinely rewarding. Every day, we make sure we serve our wonderful communities through top-quality air conditioning and heating repair services as well as other HVAC-related jobs. We are here for you, Savannah! We're here for the many surrounding communities as well. Get in touch with us for any HVAC service you may need.
AC Repair In Eastern Georgia
With our headquarters in Port Wentworth, we are just 15 to 20 minutes away from Savannah, GA and many of the surrounding communities, including Pooler and Rincon. This places us in a convenient central location from where we can dispatch out technicians for fast, quality AC repair and maintenance services you can count on.
Here in the greater Savannah region of eastern Georgia, we serve the commercial and residential sectors by offering the following sought-after services:
AC tune-ups
AC installations
Commercial cooling services
24/7 emergency AC service
Heating tune-ups
Furnace service and repairs
Commercial heating services
Heater replacements and installations
24/7 emergency heating services
Indoor air quality assessment and improvement

What To Do When You Need AC Repair Services
Is your cooling system acting up? Is it failing to keep you and your family comfortable during our warm Georgia days? Are your energy bills too high? Are sections of your home or business not getting the right levels of cooling?
If you answered yes to any of the above questions, you can benefit from AC repair services.
Get in touch with Rick's HVAC for quality, prompt, reliable, and affordable air conditioning repair services. We are here to keep people cool in this beautiful but often hot region.
You don't have to live with uncomfortable indoor temperatures or poor air quality. We at Rick's HVAC have the know-how to get your cooling system operating correctly once more so that everyone in your household can be comfortable, healthy, and safe.
For AC repair services you can count on in Savannah, Pooler, Brooklet, Bloomingdale, Port Wentworth, Garden City, or any other community in the region, reach out to Rick's HVAC today!
Contact Us!