HVAC Maintenance Contractors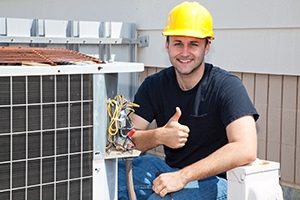 Every air conditioning and heating system in Savannah and the surrounding east Georgia communities requires regular maintenance and service by a professional HVAC technician with experience and the right training. Proper maintenance of your heating and cooling equipment for your home or business will help ensure your indoor air comfort system operates as it should with fewer breakdowns, repairs, or the need for early replacement.
Keeping your system in good condition helps you to enjoy the energy savings the manufacturer designed your heating and cooling equipment for. Otherwise, dirty, ill-kept air conditioning and heating equipment will cause problems that could have been avoided with proper periodic maintenance. Instead of dealing with catastrophic failures and a system that wastes up to 50% more energy, call our Pooler air conditioning company and ask about our maintenance agreements. We serve Savannah, Pooler, Port Wentworth, Bloomingdale, and beyond.
Rick's HVAC's air conditioning maintenance professionals will keep your air conditioning and heating system maintained according to the manufacturer's recommendations and maintenance procedures. We have options in annual planned inspection and tune-up and semi-annual service for both heating and cooling systems. We designed our Protect Planned Maintenance Service to meet or exceed all manufacturer and extended-warranty requirements with adherence to recommended procedures form the DOE and our local Savannah region utility companies. So call today to keep your system in great shape so you can rely on it all year long with no hassles and no worries!
How does a Protect Maintenance Agreement improve the health of my HVAC system and save me money?
Our annual or semi-annual inspection and tune-up service allows us to catch and correct minor issues before they can become catastrophic problems. Plus, you'll know what to expect out of your heating and cooling system for the foreseeable future.
Our Protect customers receive 15% discounts on all repairs! A Protect tune-up on your heating and air conditioning system includes cleaning all heat-transfer surfaces and properly calibrating your system's operation back to design specifications. This will improve your comfort and save up to 50% on your energy costs. If a repair we have done fails during that season, we will repair it again absolutely FREE!
Our automated dispatch system keeps track of your inspection and tune-up schedule, which allows us to contact you to schedule an appointment at a time that's convenient for you.
Most importantly, our Protect customers receive Priority Service. In the event that your system is not working properly or fails completely, we will give you priority service by moving your request to the top of the list. This means that during our uncomfortably hot summer or cold winter days, you will be the priority for us to get your system back online. Contact us to learn more!
---
Contact Us Today!